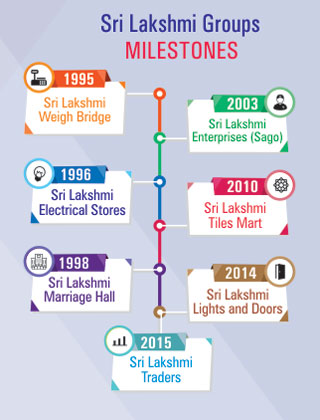 Welcome to SRI LAKSHMI GROUPS
We are part of the prestigious sri Lakshmi group of company founded by our chairman R.Raja.
We entered the line of tiles in the year 2010. With never give in attitude by 2013 we had the biggest showroom in our locality and shortly after we became the no1 showroom in all faucets like sale, range and service.
We deal with top brands in the market and we give the customer the choice of immediate stock on almost all products displayed.
We constantly upgrade our showroom.
2010 – 1200sqft showroom
2013 – 4500sqft tiles & 3000sqft granite showroom
2016 – 15000sqft tiles & 5000sqft granite showroom
2019 – 30000sqft tiles & 10000sqft granite showroom